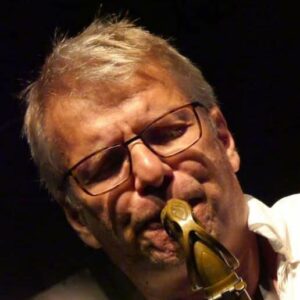 EMIL HESS
Emil Hess Internationalt aktiv københavnsk saxofonist og komponist som har spillet over 1500 koncerter i ind og udland, har lavet 430 kompositioner og produceret 16 albums og 3 musikfilm/DVDér som leder eller co leder med egen musik.
Nyt Album: Emil Hess Evolution Stories  release 10.11 2020.
Vinder af Danish Music Award jazz 2014 for Årets Danske Jazzudgivelse med "3 X Hess: Music for Mum & Dad"
Født i KBH 16.04. 1965, som 6 årig flyttet til Vejle: skole og gymnasie, har siden boet 10 år i Århus, 5 år I USA (New York, Boston, San Francisco), og har siden 1999 haft base i København.
EH Leder Emil Hess Evolution,  Emil Hess Quartet og Emil Hess Night Church. Co-leader af den New York baserede gruppe Hess/Huntley, 3 of kind, 3XHESS og Scandinavian Jazz Quartet.
Har desuden spillet med Mulgrew Miller, Cameron Brown, Lars Jansson, Marilyn Mazur, DaveBallou, Rich Huntley, Thomas Clausen, Erling Kroner, Klüvers Big Band, ToneArt Ensemble, Ted Curson og Carmen Bradford.
Emil Hess har komponeret for forskellige besætninger.
Bla. for: Emil Hess Evolution Orchestra, Saxofonkvartetten United Notions, Hess/Huntley Group,
Hess/Dayyani, ToneArt ensemblet, Night Church – Emil Hess Solo, Emil Hess Quartet,
Scandinavian Jazz Quartet, 3XHESS, Klüvers Big Band, Århus New Music Orchestra.
E.H. har skrevet mest til egne ensembler men har også skrevet musik til film, musical, strygere,
Big Band, kor, store og små klassiske og jazzensembler og forskellige mere utraditionelle
ensembler i forbindelse med komponistforeningen ToneArt´s workshopkoncerter.
Spiller alle saxofoner, klarinet, basklarinet, fløjte og piano.
Uddannet v/ Berklee College of Music, City College of New York og Århus Universitet (Cand.
Phil) med lærere som Ron Carter, Dave Liebman, Bill Pierce, George Garzone, George Young
og Jerry Bergonzi.
Ekstern lektor ved Musikvidenskab, Århus Universitet.